This dog leg left par 4 requires an accurate tee shot, as hazards parallel both sides of this fairway.
Long hitters may choose to challenge the preserve area on the left, but precision is key as a waste area awaits thru the fairway.
Favor the right side of the green with your approach, as danger lurks left.
| Tees | Yardage | Handicap |
| --- | --- | --- |
| Black | 423 | 6/10 |
| Blue | 347 | 6/10 |
| Blue/White | 347 | 6/10 |
| White/Blue | 347 | 6/10 |
| White | 331 | 6/10 |
| White/Green | 305 | 6/10 |
| Green | 305 | 6/10 |
| Green/Red | 305 | 6/10 |
| Red | 257 | 6/10 |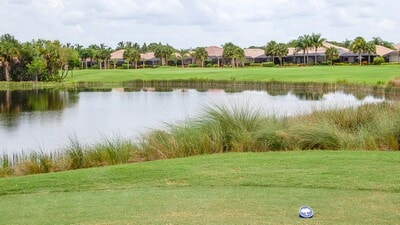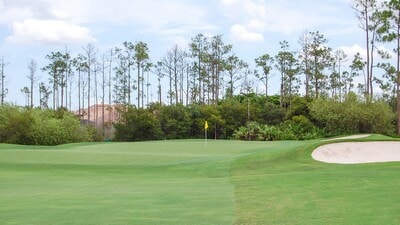 Tees
Yardage
Slope
Rating
Black
7375
M: 137
M: 75.7
Blue
6541
M: 129
M: 71.7
Blue/White
6300
M: 127
M: 70.6
White/Blue
6159
M: 125

M: 69.9

White
5928
M: 123
M: 68.8
White/Green
5490
M: 116
M: 66.6
Green
5170
M: 110
W:120
M:65.5
W: 70.4

Green/Red
5014
W: 118
W: 69.5
Red
4564
W: 112
W: 66.9
M = Men
W = Women